New functionality in ICRFS™ 2020 includes the following
Database
ICRFS can now communicate directly with external data sources compatible with the ICRFS data framework. These sources can be in unit record format or summarised by cell. Database administrators can use the ICRFS utility to create the tables mapping the source data to ICRFS data. In ICRFS 2020 these are referred to as IODA servers.
Accounting Basis is a new permanent database variable. Any triangle groups created in earlier versions will be set to undefined (otherwise behaving like accident). Accounting basis can be one of Accident, Occurrence, Report, Claims Made, Underwriting or Policy. Tables and chart headers are updated to reflect the accounting basis of the TG.
PTF
Choice of MLE or UBE parameter estimation is now available in PTF.
PTF Wizard also has the MLE or UBE option enabled.
Forecasting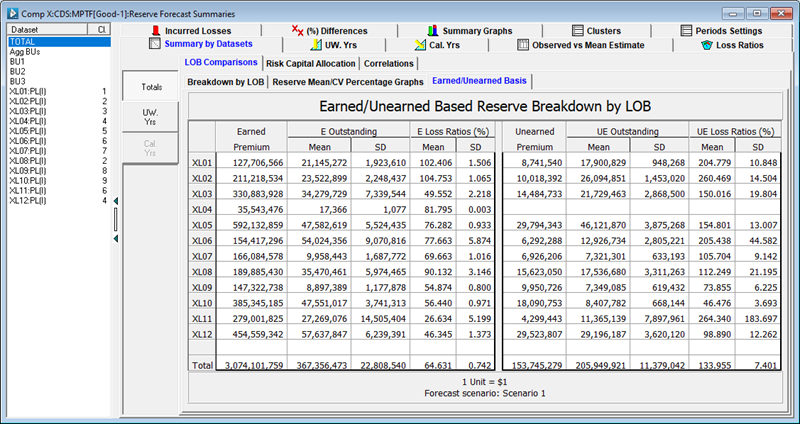 PTF/MPTF. The Earned vs Unexpired Risk will appear in Forecast Summary whenever there is a difference between Written and Earned Premium as entered in the Premiums table associated with the TG.
MPTF. If an aggregate includes datasets with differing accounting basis, then the accounting basis of the aggregate can be set in the dialog.
MPTF. When there are differences of currency or accounting basis among the lines in a forecast. the setup displays these differences in the main table and in Combine datasets dialogue.
When a forecast is set up to include Future Accident Periods these are now referred to as Pricing Periods
ELRF
ELRF Bootstrap Forecast is now available for all ELRF model templates. Formerly this feature was restricted to 'Ratio only' models.
---
Contact This email address is being protected from spambots. You need JavaScript enabled to view it. with any enquiries.