Best's Financial Suite P/C, US and
Insureware's Analytical Tools: ELRF
Insureware and AM Best have created ELRF™ Best's Schedule P 2022.
Below we illustrate the benefits of the Extended Link Ratio Family (ELRF) modeling framework as it applies to the Best's Financial Suite P/C, US data.
The Mack method, the bootstrap technique, and much more!
ELRF models include:



Mack (regression formulation of volume weighted average, chain ladder);
Exclusion of whole periods or individual points from estimations;
Murphy;
Simple, yet comprehensive, diagnostic tests to support results;
Optimisation algorithms to aid model selection;
The bootstrap technique applicable to any model in the ELRF modeling framework;
Bornhuetter-Ferguson; and
Much more!
All of the above within an interactive, intuitive, graphical interface.
Various displays and diagnostics from the Extended Link Ratio Family (ELRF) modeling framework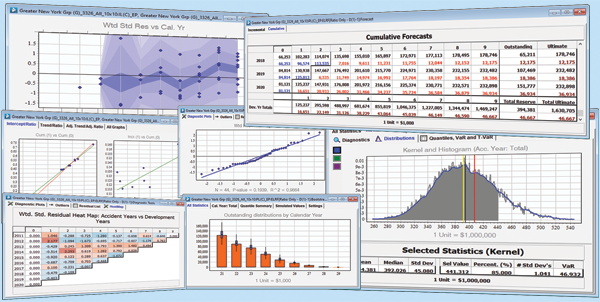 Some essential displays from the ELRF modeling framework are shown on the left.
Residuals versus the three time dimensions: development, accident, and calendar. This diagnostic plot shows whether the trend(s) in the method describe the trends in the data.
Forecast table. This table shows the observed values (blue) versus fitted mean values (black), along with projected future mean values (black), and standard deviations (red/burgundy). This table provides an essential cross check to ensure future projections (projected liability stream) line up with past experience (calendar period totals).
Y|X graphs. This simple display gives indications whether link ratios are sufficient to project the next incremental loss.
Various residual diagnostics like the heatmap and normality tests (among others).
Calendar year liability stream (distribution results) and other distributional metrics from the bootstrap samples.
Link ratio techniques and other modules
ELRF™ Best's Schedule P 2022 also includes access to all other traditional methods in the ICRFS™ software suite including:
Link Ratio Techniques (LRT)
Aggregate Link Ratio Techniques (ALRT)
Projected Case Estimates (PCE)
Payments per claim incurred (PPCI); and
Fisher-Lang (FL)
Methods included in LRT and ALRT include:
Volume weighted average, Chain ladder;
Arithmetic average;
Last N diagonal weighted average;
Two parameter smoothing;
Three parameter smoothing;
Bornhuetter-Ferguson; and
Many more!
The combinations in the LRT frameworks are limitless.
Need more modeling power?
Insureware has created ICRFS™ Best's Schedule P 2022 as a premium application for those who have installed ELRF™ Best's Schedule P.
This application adds the innovative probabilistic modeling frameworks of ICRFS™ to the functionality of ELRF™ Best's Schedule P 2021.